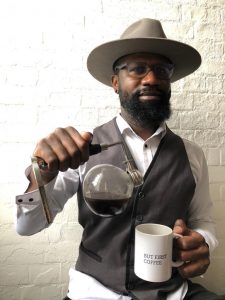 It began with him seeing his first Blendly Facebook advert, to getting in touch and having a meeting with Managing Director Mark Wilson. Blendly then showed Frenchman Richard Macien that the sky was the limit for bespoke coffee! And Covid 19 is certainly not going to stand in his way!
Richard, who was born in Port au Prince in Haiti, but moved to Paris when he was five years old, is a new Blendly Barista Distributor for the South East of England.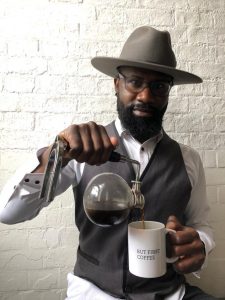 Having been involved in the coffee industry since 2001, when he moved to Britain, Richard progressed from Starbucks Barista to managing a number of their outlets, along with fulfilling supporting roles in developing coffee brands.
"Through Starbucks, I learned about making a coffee shop more productive," he said. "We were serving up to ninety-five customers per half an hour with our morning trades in London City. In 2005, I was awarded "Customer Service Manager" of the year following the Basic Behaviour Change Program."
From Starbucks, Richard, whose nickname is The Ayitian Coffee Dude, moved to private catering at the Barclays HQ in Canary Wharf. Due to his past coffee expertise from Starbucks he supported the development of new coffee shops, both set up and operation, within the thirty floor HQ.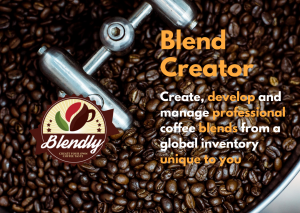 "After Barclays, I fulfilled a number of other coffee related roles, from Retail Manager at RBS, Area Manager for Sodexo, to Business Development Manager for Paper & Cups, running my own coffee shop Kafe 1788 in East London."
He clearly now has a love affair with coffee.
"Maybe it's because coffee was something I was not allowed to have until I was eighteen years of age," said Richard. "I would have coffee in the morning with my Mum before leaving the house, it was our little tradition! Then I was hooked!"
Now he lists his favourite coffees as Brazilian, Guatemalan, and Colombian.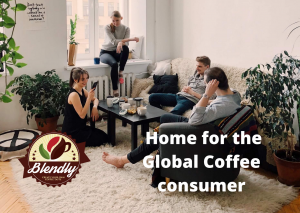 He also loves cold brewed coffee with some Kenyan or Yirgacheffe, and lately he has been drinking some nice Haitian Blue Mountain as well.
"As I have all the brewing equipment at home, I love experimenting with the different brewing methods. I particularly love a nice Oat Flat white when I'm out and about!"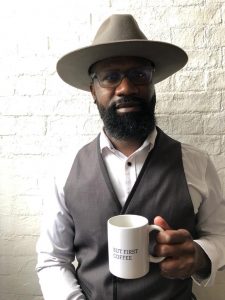 "The current Covid19 climate is certainly making it hard for the hospitality sector," continued Richard. "But with Blendly's online platform you can create your own coffee blend and develop a distinct brand for it. This is the future for coffee shops and coffee lovers. We must embrace the technology tools to support the coffee industry in the future. That's why I have been so impressed with Blendly – it provides all the tools you need."
"I'm confident that I can grow the Blendly name in this crucial territory. I know plenty of potential new outlets for Blendly coffee. I can earn an income from distributing this coffee, which could include blends I will develop myself," he said.
In his spare time, (if he has any when he is not promoting Blendly), Richard is a keen cook, and as he is lactose intolerant and newly vegan, he's working more on baking delicious vegan cakes. Sweet!
Further details www.blendly.co.uk.