Today's Circular Economy aims to redefine growth, focusing on positive, community benefits for all. It also redefines and rethinks how we produce consumer goods – from furniture and technological products to fashion, and of course, food & drink products such as coffee.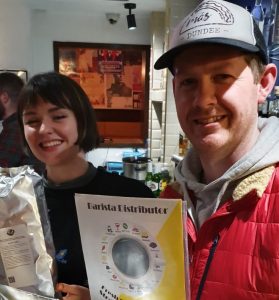 Blendly is absolutely on the money for all of this, with a range of Barista Business Plans which bring benefit to both the Barista and the community he is a part of.  He has the potential to grow his own business within Blendly, with plenty of practical help and support coming from us, plus collaboration from other Baristas on the plan.  The Circular Economy idea fits with our ethos that there is real value in creating something unique to ourselves. The purchase is more meaningful, and our customers, which cover trade & consumer, know the provenance of the ingredients they are using to create their own coffee blends, as we provide them with this information.
We've done a lot of the hard work already for our customers, ensuring that we
have a wide selection of sustainably sourced, high quality coffee beans from all over the world in stock. We sell at transparent prices; we have our own roasting facilities to custom roast the beans to clients bespoke requirements, and we distributes the coffee, with our trade customers, many of whom run coffee shops, hotels, and restaurants, receiving a commission through the flexible and easy to use Barista Business plans.
In a circular economy, economic activity builds and rebuilds an overall system – for it to be effective it has to work across all levels – both large and small businesses, across individuals and organisations, and at both a global and local level. All of this is true of Blendly as you can start small but soon get bigger with us. Our business is both global, tapping into worldwide coffee markets, but also very local, helping the guy in the deli improve his range of coffee beans and perhaps sell on some blends to other businesses, or people he knows who love good coffee.
Getting involved with Blendly is inspiring, with creativity and flair coming into play to create the perfect coffee, and it boosts knowledge  – in this case it's learning about coffee beans, and how they combine to create the perfect blend for us.
Digital food and drink services have never been so important to millennial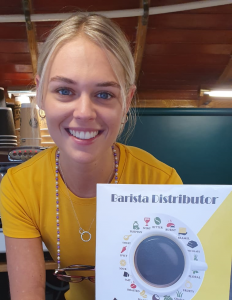 customers, so we are delighted to be playing our part in this, and in this new circular economy model.  We are the only company in the world to aggregate all three steps needed for the production and supply of a cup of artisan coffee.
With Blendly, customers are basically tapping into our vibrant coffee marketplace which is entirely online, selling coffee and engaging with customers 365 days of the year. The Barista plans offer a unique interface where you can swap ideas, share advice, and benefit from our business "tools" which cover topics such as stock control, E procurement, equipment care, and distribution. 
Cutting edge technology is at the heart of Blendly, ticking another box for the circular economy. We are soon to benefit from specialist funding which will help develop a predictive ordering platform, of huge benefit to our trade customers. Being able to connect, measure, mathematically model and predict each component within the food security supply chain – from the purchase of coffee commodities through to the preparation of the final cup – will be critical to Blendly's success in the coming months. We very much hope that by being able to instantly adapt to a volatile commodities, economic and consumer environment, we will have the edge.
On a day to day basis for domestic customers, when they order their coffee at the click of a button, their coffee choices are delivered to their home in three working days.  They can match favorite High Street Coffee Shop blends, or even buy the coffee that existing
Blendly corporate hospitality businesses are giving to their customers anywhere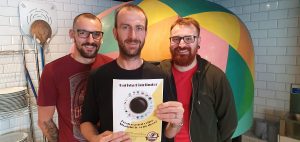 in the world. The latter can be done through the Blendly website, or even whilst at the venue, where a unique QR code enables instant ordering. 
We all want our commodities instantly available. Artisan food & drink services accessed online, such as Blendly, are very much here to stay, of that there is no doubt.
The customer is clearly the winner as we yield much lower running costs, and can pass these savings onto the customer, whilst feeding profit back into our business. Customers can access great coffee 24/7 anywhere in the world!
Further details on Blendly at www.blendly.co.uk