Over the last few months, we have all been witnessing pressure on prices and to date we have worked to minimize these pressures in the Blendly marketplace. We have introduced new account types and also added ways for your customers to build value with you in how they can have their everyday fix of coffee and we look forward to working with you to build more value in the New Year.
Green beans prices have been increasing over the last quarter and are now at 10 years high. Due to pressure on these commodity prices – The Blendly marketplace will start to reflect the current changes in these commodity prices.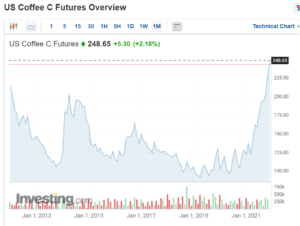 Although green beans from all over the world have been affected as all our products are individually priced according to the mix of beans. Some blend mixes will remain relatively unchanged, however, South American beans such as  Brazilian and Columbian are noticeably affected.
We will continue to innovate over the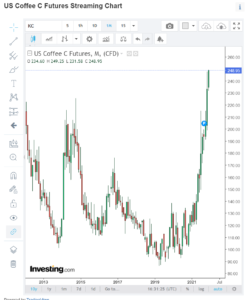 coming year to build more value into our services. As well as build new types of accounts that allow everyone that we work with to build more value and open up more channels for your coffee blends.
Over the coming days, weeks, I look forward to catching up.
Ref :- https://uk.investing.com/commodities/us-coffee-c-streaming-chart