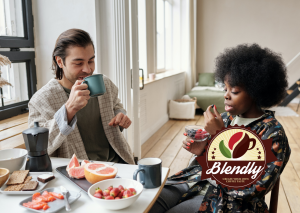 According to Tim Brown of the University of Chester, the UK charity sector could possibly loose up to £5bn in funding as a result of COVID191.  Cancelled events such as London Marathon, Fundraising dinners, canvassing…most, if not all, gone…
Here at Blendly, we're doing our part to take a positive role in changing this situation by partnering with charities and organisations to develop blends and generate a sustainable, permanent income by using our Barista Distributor Community Builder.
The Blendly Barista Distributor Community Builder accounts were designed to be used by approved Barista Distributors allowing them to work with friends, family, and other groups in the creation of customised coffee blends. The Community Builder extends the range of products and services available to baristas in the delivery of their coffee. Charities and organisations are now able to use this powerful tool to develop and market their blends online using the Blendly platform.
Our first client, Spina Bifida Hydrocephalus Scotland has already developed their blends and will be launching at the end of the month.  The whole process from concept to market, complete with own branded label, took 72 hours. The official launch will take place at the beginning of July when this blog will be updated to feature the blends referral links.
On working with Spina Bifida Hydrocephalus Scotland, Mark Wilson commented "The Blendly team are extremely proud to be partnering with Spina Bifida Hydrocephalus Scotland and as they start their journey as coffee distributors to their network of over 5,500 members. This truly demonstrates the entrepreneurial spirit that exists within their community which shows real potential to raise substantial funds over time."
What does a Blendly Barista Distributor Community Builder do?
A Blendly Barista Distributor Community Builder allows you to manage and
distribute fresh coffee blends direct to your own network. The Sales Manager Account gives you access to the same production and manufacturing facility. Blendly will be your support and puts you in charge by letting you manage your customers. The Sales Manager Account will allow you to blend a unique coffee and create any coffee type that suits the client requirements.
To know more register through this link.
In the meantime, let's all try to do something to help support the many worthy charities and causes, they depend on our support and generosity.
1 https://www.linkedin.com/pulse/charities-facing-fundraising-crisis-tim-brown